Vaccination in Brabanthal
When will it be your turn?  How can you get there?  What do you need to bring?  
Who will receive the vaccine in Brabanthal?
You have to meet two conditions:
You have to have your official place of residence in Leuven.
You have to be 18 years old or older.
How can you get there?
Address
Brabanthal, Brabantlaan 1, 3001 Leuven
Consult Google Maps for the routes.
How to get there?
View transport and parking options
Accessibility of the building
The Brabanthal site is fully accessible for people with a disability.
Someone (your partner, a family member, a friend, your caregiver,…) can help you and accompany you to the vaccination centre.  You can also at any time ask one of the staff members to help you.
Guide dogs are allowed.
People with a hearing impairment can be helped by a staff member wearing a transparent face mask (for lipreading).
What do you need to bring?
Identity card
Invitation, on paper or smartphone
Face mask (no bandana or scarf)
You don't have to bring any money.  The vaccine is free.
You will get an injection in your upper arm.  Wear a comfortable top that makes it easy to bare your upper arm.
Come alone.
An exception is made for people who need assistance.
Don't come when you're ill.
Call the corona information centre.
When will it be your turn?
We follow the schedule of the federal government. The time schedule depends on the availability of the vaccines.
You can already estimate when you will receive the 1st and possibly 2nd injection.
View vaccination schedule by age (Dutch only)
Backup list 
Since 6 May 2021 we use the reserve list QVax. We contact people on the list for leftover vaccines at the end of the day, by age (oldest first).
Residents of Leuven can choose a date themselves after they have been invited. As a result, the appointments at the vaccination center are meticulously scheduled and almost everyone respects their appointment. We therefore do not expect many vaccines to be left for the backup list.
Invitation
You will receive a personal invitation by post 2 weeks before your vaccination.
You will also receive a text message and an email if these data are known.
The invitation contains your vaccination code.  You can use that code to make an appointment online or by telephone.  You will find instructions in the invitation.
You can make an appointment up to 1 month after having received the letter.  Afterwards the code is no longer valid.
When planning your summer vacation, take your vaccination and possible quarantine into account (when returning from a red zone). You can already estimate when you will receive the 1st and possibly 2nd injection.
View vaccination schedule by age (Dutch only)
Together with your partner or a family member
Under certain conditions, your partner or a family member can receive their vaccine at the same time as you.
Conditions
You meet all the conditions:
At least 1 person has received an invitation 
The family member is at least 65 years old (birth year 1956 or sooner) 
The family member has their official place of residence at the same address (domicile)
You come:

Both for a first vaccination
Or both for a second vaccination and received the same vaccine on the same day with the first vaccination
How to request?
Call the corona and vaccination information centre. We will make an appointment for your partner or family member.
What is the procedure for your vaccination?
The vaccination takes place in 5 steps:
At the entrance, you disinfect your hands and we measure your temperature.
 
A desk employee will register you on the basis of your identity card and your invitation.  We will refer you to one of the 4 vaccination zones, the yellow, the green, the red or the blue zone.  You simply have to follow the coloured lines painted on the floor to the right zone.
 
You can then take place in the waiting area. You will see when it's your turn on the screen above the waiting area.
 
When it's your turn, you can enter the vaccination cubicle.  You will be asked to answer a few medical questions:
 

Do you have flu-like symptoms or one of the following symptoms at the moment: cough, shortness of breath, fever, sore muscles, fatigue, loss of smell and taste, blocked nose, sore throat, diarrhea?
Have you ever had an immediate or serious reaction after a vaccination? 
Have you ever needed urgent medical  care after taking medication?  
Do you have asthma?  Do you suffer from it a lot in spite of your treatment? 

Then you will be given the vaccine and your vaccination will be registered.
 

You can then take place in a 2nd waiting area.  Someone will help you if you have any side effects.  If you feel OK, you can go home after fifteen minutes.
Pharmacists supervise the preparation of the vaccine.  There is always a doctor present in the vaccination zones.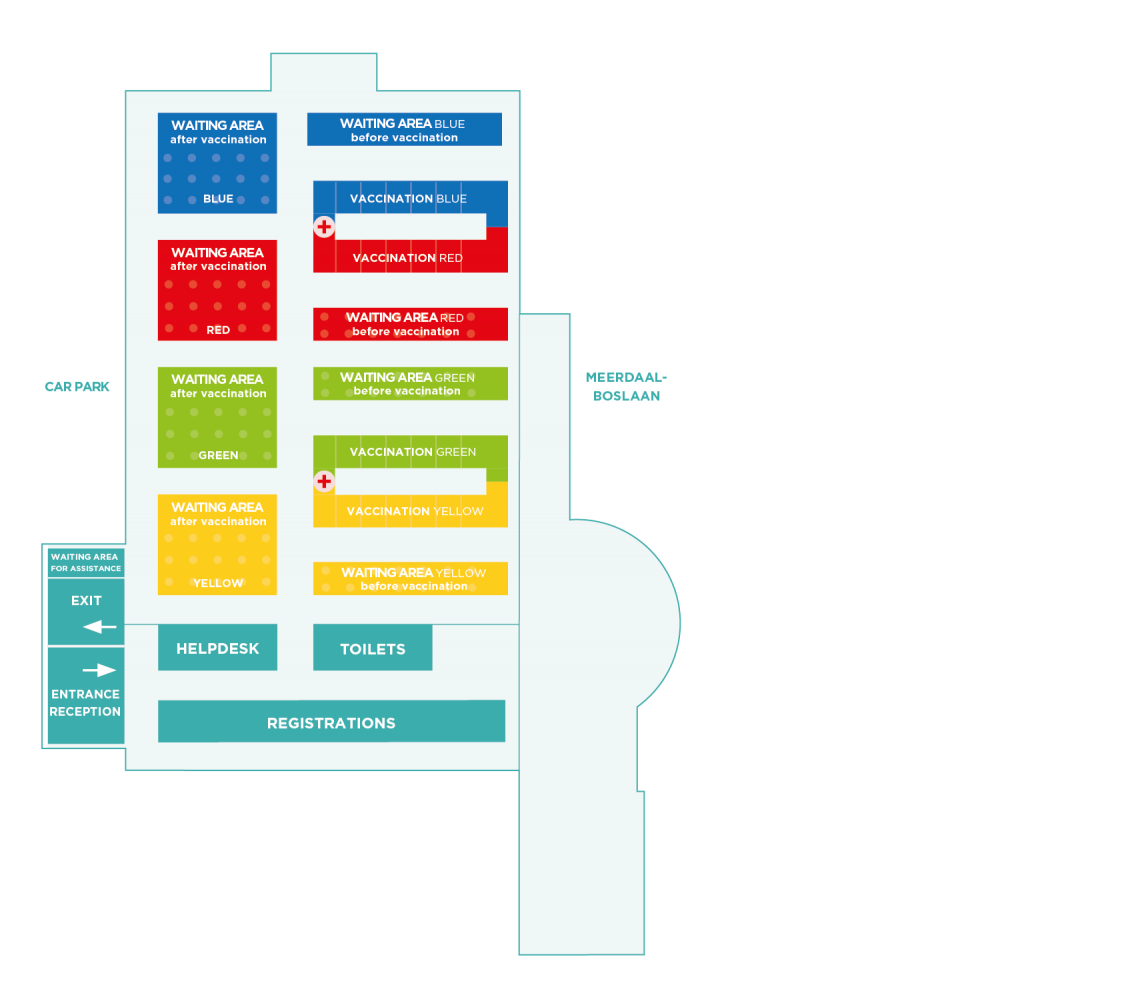 Vaccination at home
People who really can't get to the vaccination centre can receive their vaccine at home.  Health problems are the only reason to be vaccinated at home.
Contact your family doctor.  He will decide whether or not you will have to be vaccinated at home and will organise it together with you.
Getting your vaccine in the vaccination centre will always be the quickest.