European Commission awards Leuven title of European Capital of Innovation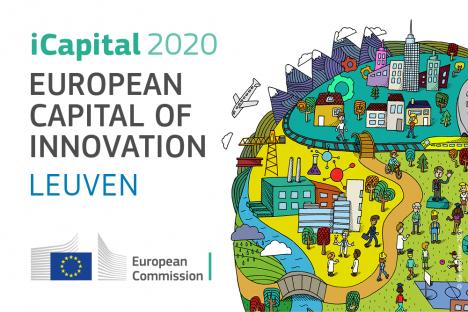 What is European Capital of Innovation?
The European Commission awards this prize to the city that has shown optimal application of innovation in improving the quality of life for its citizens and in creating new and ground-breaking solutions to public challenges. The winner receives 1 million euros.
The city of Leuven applied for the award in close collaboration with Leuven 2030 and Leuven MindGate. Joining other candidates such as Valencia, Vienna and Milan in the finals, Leuven has now been awarded this prestigious title. World-renowned cities such as Amsterdam, Barcelona and Paris are former winners.
Why is Leuven the new European Capital of Innovation?
The city of Leuven has established a unique symbiosis of empathy in leadership and structural collaboration between citizens, knowledge institutions and local organisations. In this way, the city has always adhered to its aspiration to create a brighter future, for itself and far beyond. This constant and durable awareness of the value of cooperation has now been recognized and awarded by the European Commission.

A wide array of public challenges are being tackled by Leuven and its ground-breaking network of collaborations: climate issues and global warming, culture, high quality and low-threshold education and care …

Leuven insists on creating optimal opportunities and a fruitful framework for all its citizens and stakeholders. It has generated a unique and fertile soil for creativity and innovation.
Ground-breaking collaborations
Leuven was unanimously elected by the jury on the following grounds:
Leuven 2030  and Roadmap

Through the organisation Leuven 2030, over 600 partners, including governments, knowledge institutions, companies, organisations and citizens, collaborate structurally and intensely on the city's climate transition strategy and its implementation.
Leuven 2030 has developed a roadmap towards carbon neutrality, co-created with over 70 experts. It provides a shared and detailed vision for a carbon-neutral Leuven.


Leuven MindGate en And& festival

Leuven MindGate is one of the world's prime regions for health, high-tech and creativity. A region with a unique ecosystem of companies cooperating with knowledge institutions and the government, creating the perfect breeding ground for companies, entrepreneurs, investors and talent.
Leuven MindGate's flagship event is And&, a biannual innovation festival that features international speakers, art exhibitions, music, and technology.


Leuven Helps
This online platform launched during the COVID-19 crisis is connecting citizens in need with thousands of volunteers ready to help.

Samen Onderwijs Maken (SOM)
This citywide network translates as 'Co-creating education'. It aims to enhance equal learning opportunities and to promote diversity and it has recently developed the 'Leuven Learns' platform, connecting teachers, students, experts, and volunteers to facilitate a transition to e-learning during COVID-19.

Leuven, maak het mee!
'Leuven, Maak het Mee' or 'Leuven, Co-Create' launched an open call to the public to submit their ideas on how to make Leuven a better place to live, work, and play. More than 2100 ideas were put forward, more than 1000 made it into the city's budget.

Kom op voor je wijk
This project involves citizens to design and implement community-driven projects within their neighbourhoods.

The world-renowned Rega institute
Virologists at the Rega Institute of the University of Leuven are developing a potential vaccine that has already proven effective in warding off the virus in hamsters.